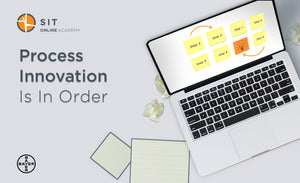 SIT Systematic Inventive Thinking
Process Innovation is in Order for Bayer
Sale price Price $140.00 Regular price
Process Innovation is in Order will enable you to innovate your most important business processes by methodically re-sequencing them in a variety of ways.
Through this engaging course crafted by trained SIT facilitators, you will learn how to:
Overcome your fixed thinking around systems structures and how they operate
Apply the Division thinking tool to refresh and renew your operational processes
How to find value in the newly created process and make the most of the benefits
This course is designed to be an interactive experience in which you'll go through:
Bite-sized videos (generally between 1-5 minutes each)
Practical assignments and comprehension-boosting exercises
Additional resources to inspire you and deepen your knowledge
Real-life examples and case studies 
Estimated time commitment 3-4 hours, in total. 
After purchase you will have access to this course for 6 weeks.
Get a taste of the course with one of its videos:
Jumping right in, this video will put you in the shoes of the management team at our fictional hotel "Lamakaan Suites". Through hands-on simulation, you will get a taste of the Division thinking tool introduced in this course.